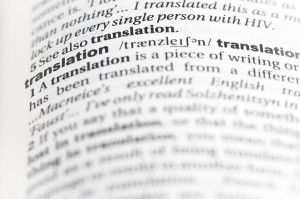 Puerto Rico Translation Services offers professional translations for diverse needs such as legal documents, business manuals, materials for advertising/promotional campaigns, transcripts, certifications; as well as foreign language translations, and even medical translation services.
We want to help you get the professional translation assistance you need. We can even assist you with multilingual documents, and have them translated quickly and accurately.
We can help you bridge the cultural gaps where simply translating words is not enough. The goal is to convey the exact message as the translator accounts for colloquialisms and idioms (and/or non-standard language) that a computer program or online translator would not know about.
Spanish translation is one of our many specialties. If you need your documents or live translation from English to Spanish, Spanish to English; or even other languages, contact us today, and allow our experts to help you.
We have a team of specialists who are trained in over 20 languages, and more than 50 fields of expertise. Our team of in-house, and network linguists work very hard to make certain each project is completed according to our very high standards, and that you feel satisfied with the translation you receive.
Legal Translation Services
It's very important that legal documents are translated correctly, and accurately or there could be serious legal and financial consequences. This is why it's essential you work with a professional service provider that will help you translate them.
Every document you entrust us with will be translated accurately by an experienced and knowledgeable staff. We use the top software programs in the world, and maintain compatibility with the programs you are already using.
Medical Translation Services
Medical translations are very sensitive. Medical documents must be translated appropriately to avoid serious repercussions. You also want to be sure your confidentiality is safeguarded.
Puerto Rico Translation Services adheres to strict privacy policies, never disclosing your personal information, and will even enter into confidential non-disclosure agreements should your business or organization require it.
Contact us today to see how we can help you!