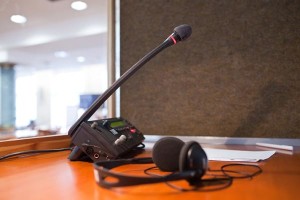 When it comes to interpretation services, having quality interpretation equipment makes a world of difference. The interpreter has to hear what is being said, without distractions, in order to interpret it correctly. If the equipment has interference or doesn't transmit properly, it will hinder your efforts and interfere with communications.
We offer quality interpretation equipment rentals for all of our clients. It's important for us to stay updated with all the latest options available, so we can offer you the very best. This is necessary to make sure everything goes smoothly during your conference, which in turn helps you maintain a professional appearance at all times.
Our interpretation equipment includes the following:
FM and infrared digital transmitters and receivers
Microphones
Headsets
Headphones
Amplifiers
Soundproof  booths
PA systems
Control boards
Portable  equipment
Our soundproof booths are spacious, comfortable, and they provide adequate lighting and ventilation to enhance performance. They exceed the ISO 4043 standards, and each one includes a console, individual controls, reading lamps, microphone and headset.
In addition to our equipment rental service, we give our clients the technical support needed to set up and maintain the equipment throughout their meeting. We make sure everything is functioning properly so you don't have to worry about it.
Don't Know What Kind of Equipment You Need?
Don't worry! We provide all of our clients with a personal project manager who is there to guarantee you have a good experience. He will sit down with you, discuss your needs, and then go over the different options available. He will explain how each piece of equipment works, and what it takes to keep it functioning properly so you can determine which type of equipment is best suited for your demands.
Once you decide on the equipment, the project manager will assign the interpreters and technicians needed to complete the job in a professional, and efficient manner. This leaves you with the extra time to take care of other important business. When you have the right interpretation equipment it'll help you succeed in all of your new endeavors, and at Puerto Rico Translation Services we have what you need.