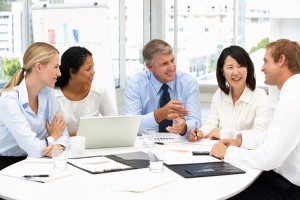 Puerto Rico Translation Services offers both simultaneous and consecutive interpretation services that you can trust will be accurate every time. It takes an experienced professional to ensure all messages are interpreted correctly and there's no room for errors. Interpreters have to think and respond quickly. Therefore, they must be fluent in both languages in order to choose words that maintain the true meaning of the message; instead of simply translating the words.
That's what sets us apart from the rest. We have different interpreters trained in a wide variety of languages, hence, the professional we select for your project will have extensive knowledge of both languages being used. They'll also have the experience needed to interpret your message while conveying the original meaning of each word or phrase in an instant, without hesitation.
Simultaneous and Consecutive Interpretation Services
At Puerto Rico Translation Services, we offer simultaneous and consecutive interpretation assistance for conferences and business meetings. We also arrange for escort and telephonic interpretations; and you'll always receive competent, friendly assistance. To make sure you receive the very best services possible, we tailor them to meet your specific needs.
Our professional interpreters will gather all the details, get together with your project manager to have everything ready and organized for your meetings. Furthermore, we have the resources to make last minute changes when something unexpected arises.
We Provide Interpreting Equipment
We provide quality interpreting equipment such as infrared digital and FM transmitters and receivers. We offer table-top and full-size booths, microphones, headsets, and control boards as well. And we do on-site inspections to confirm all your needs are being met.
Before your conference, we'll inspect the location to determine what type of equipment is needed, where it will be set up, and verify the power requirements. We'll have everything set up and ready for your conference so you don't have to worry about a thing. After the event, we'll take care of all the clean-up.
At Puerto Rico Translation Services, we select the best interpreters to fill your needs based on the specific type of services you require. Each interpreter will have in-depth expertise of the subject being covered, and vast knowledge of both languages being used. You can be confident that all of your interpretation needs will be met when you use Puerto Rico Translation Services for your next project.